KIVIUQ RETURNS An Inuit Epic
ON TOUR AND AVAILABLE FOR BOOKINGS 2018/2019
Kiviuq Returns is a one hour interdisciplinary performance that brings together traditional and contemporary music, Inuit drum dance, throat music and elder storytelling in a contemporary retelling of one man's legendary heroism and sorrows through the ages.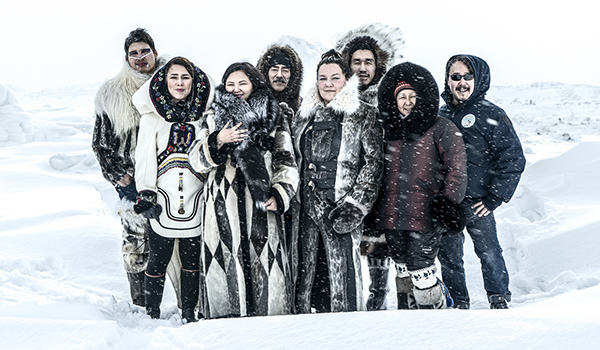 Kiviuq is the eternal wanderer; the legendary hero of Inuit stories from across the Arctic. In this theatrical retelling, Kiviuq journeys by qajaq... lost and betrayed... encountering shape-shifting animals that are by turns enchanting, comical and treacherous. He calls on his spirit guides​ to find his way home. Inuit legend fortells that if Kiviuq dies before he returns home, the Inuit will disappear from the earth.
Kiviuq Returns is based on the legends of the Inuit hero Kiviuq, as remembered and shared by elder storytellers (left to right):
Miriam Aglukark (Gjoa Haven)
Qaunaq Mikigak (Cape Dorset)
Madeline Ivalu (Igloolik)
Susan Avingaq (Igloolik)

In early 2017, esteemed elder-storytellers travelled to Iqaluit from their communities to tell us the legends of Kiviuq. The elders are of the last remaining generation of Inuit that lived their lives traditionally on the land. They had first heard the stories as children in iglus, sealskin tents and sod houses listening to their own elders, and so they now continue the oral tradition of the legends of Kiviuq.
---
Contact
Artistic Director:  Laakkuluk Williamson Bathory
Phone: +1-867-979-6485
email: laakkuluk@qaggiavuut.com