KIVIUQ RETURNS An Inuit Epic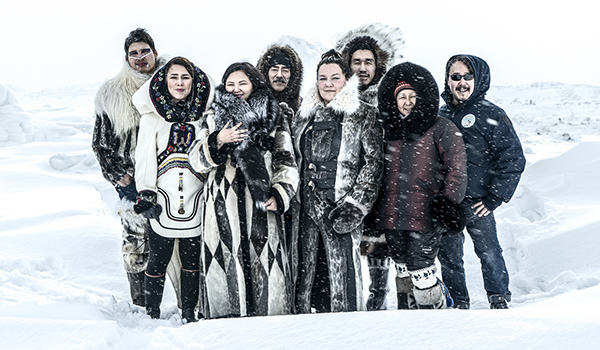 ON TOUR AND AVAILABLE FOR BOOKINGS 2018/2019
Kiviuq Returns is a one hour interdisciplinary performance that brings together Inuit music, drum dance, brilliant costumes and elder storytelling, in a contemporary retelling of one man's legendary heroism and sorrows through the ages.
Kiviuq is the eternal wanderer; the legendary hero of Inuit stories from across the Arctic. In this theatrical retelling, Kiviuq journeys by qajaq... lost and betrayed... encountering shape-shifting animals that are by turns enchanting, comical and treacherous. He calls on his spirit guides​ to find his way home. Inuit legend fortells that if Kiviuq dies before he returns home, the Inuit will disappear from the earth.


Kiviuq Returns is based on the legends of the Inuit hero Kiviuq, as remembered and shared by elder storytellers (left to right):
Miriam Aglukark (Gjoa Haven)
Qaunaq Mikigak (Cape Dorset)
Madeline Ivalu (Igloolik)
Susan Avingaq (Igloolik)

In early 2017, esteemed elder-storytellers travelled to Iqaluit from their communities to tell us the legends of Kiviuq. The elders are of the last remaining generation of Inuit that lived their lives traditionally on the land. They had first heard the stories as children in iglus, sealskin tents and sod houses listening to their own elders, and so they now continue the oral tradition of the legends of Kiviuq.
Initial Story Structure: Looee Arreak (Iqaluit/Pangnirtung), Ellen Hamilton (Iqaluit/Yellowknife), Vincent Karetak (Iqaluit/Arviat), Taqralik Partridge (Ottawa/Kuujuaq)
Collaboration: Following the creation of a story structure, workshops were held in Iqaluit with Inuit performing artists, directors and designers who worked collaboratively with the elders to explore the legends. The full creative team was then provided artist residencies at the Isabel Bader Center for the Arts in Kingston and the Banff Centre in Alberta to further explore and imagine Kiviuq's journey through the creation of a multidisciplinary theatrical experience.
Digital scenography was devised during the residencies, with video projections mapped to moveable black framed scrims that are swiftly moved by the cast themselves to reshape the onstage scenes as Kiviuq's stories unfold in different locales across the Arctic. This digital design requires no overhead hanging of screens or complicated set constructions, and yet allows the show to be performed in state-of-the-art theatres worldwide, as well as in community halls and gyms in the Arctic North, with stunning visual impact.
Cast members (2017)
Natashia Allakariallak (Iqaluit)
Pakak Innuksuk (Igloolik)
Vincent Karetak (Arviat/Iqaluit)
Trisha Ogina (Uluhaktok, Cambridge Bay)
Kurri Panika (Rankin Inlet)
Lois Suluk (Arviat)
Christine Tootoo (Rankin Inlet)
Cast members (2018)
Natashia Allakariallak (Iqaluit)
Miali Buscemi (Kimmirut/Iqaluit)
Chad Hayohok (Kugluktuk)
Jerry Laisa (Iqaluit)
Kathleen Ivaluarjuk Merritt (Rankin Inlet)
Trisha Ogina (Uluhaktok, Cambridge Bay)
Christine Tootoo (Rankin Inlet)
Original Music & Poetry: Natashia Allakariallak (Iqaluit), Chris Coleman, Corey Panika (Rankin Inlet), Taqralik Partridge (Nunavik), Kathleen Ivaluarjuk Merritt (Rankin Inlet), Christine Tootoo (Rankin Inlet)
Traditional Music & Dance: Susan Avingaq (Igloolik), Agnes Goose (Uluhaktok), Pakak Innuksuk (Igloolik), Madeline Ivalu (Igloolik), Kolitalik (Igloolik), Jimmy Memogana (Uluhaktok), Qaunaq Mikigak (Cape Dorset), Trisha Ogina (Uluhaktok, Cambridge Bay)
Directors (2017): Martha Burns, Vinnie Karetak, Carlos Rivera
Director (2018): Laakkuluk Williamson Bathory
Scenography & Technical Director: Jamie Griffiths
Costumes: Looee Arreak
Masks: Ippiqsaut Friesen
Sound: Chris Coleman
Lighting: Chris Humphrey
Youth Technical Trainees: Richard Manitok, Charlie Panipak, Ashley Savard
Performances
June 10, 2017      Banff Centre for the Arts, Alberta. Creation Residency Showing.
July 3, 2017        Alianait Festival, Iqaluit, Nunavut. Territorial/World Premiere. 
July 14, 2017       Isabel Bader Centre for the Arts, Kingston. Provincial Premiere.
July 21-22 2017  National Arts Centre, Ottawa. National Premiere.
July 24, 2017       Fleck Dance Theatre, Toronto
Nov 15, 2017       Clyde River, Nunavut
Nov 19, 2017       Pangnirtung, Nunavut
Jan 27 2018         Iqaluit, Nunavut
Jan 31 2018         Shaw Centre, Arctic Inspiration Prize Ceremony, Ottawa
Feb 11, 2018        Rankin Inlet, Nunavut
Youth Workshops 2017/2018  Clyde River, Pangnirtung, Rankin Inlet, Arviat, Kugluktuk, Cambridge Bay, Kugaaruk
Upcoming Shows 2018/19 Season  Nuuk (Greenland), Toronto (Canada)
For more details and photographs see 'Kiviuq Returns' on the Inuit World Stage
Read the Globe and Mail review
---
Contact: 
Ellen Hamilton, Qaggiavuut!  +1-867-222-5270