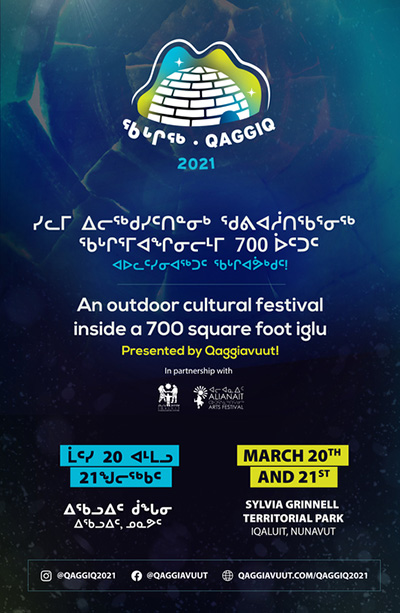 QAGGIQ 2021 was an arts and cultural festival held in and around a 700-square foot qaggiq on March 20th and 21st, 2021, presented by Qaggiavuut! in partnership with Alianait Arts Festival and Tukisigiarvik.
The qaggiq itself was built out of blocks carved from the snowy shores of Frobisher Bay, raised up on the frozen tundra of Sylvia Grinnell Territorial Park. This incredible feat was accomplished by a team of builders, led by master iglu makers Solomon Awa and Jacopoosee Tiglik. Over the weekend, it became home to dozens of performers who came together to sing, dance, teach, and tell stories for a non-stop stream of crowds.
Read their builders' log and check out day-by-day photos here!
Alas, after a very full and exciting weekend of activities, the qaggiq had to be dismantled for safety purposes. Of course, this is the nature of such a structure: qaggiq have always been erected as temporary places of celebration; they were never meant to last.
That is why Qaggiavuut's ultimate goal is to build a permanent performing arts centre, under the principles of a traditional qaggiq: a magnificent space where people gather to celebrate life in song and story -- and one that won't melt in the sun. The depth of talent on display at QAGGIQ 2021, and the incredible interest from attendees, shows just how important that centre will be. Read about our feasibility study here.
As expressed by QAGGIQ 2021 Artistic Director, Looee Arreak, "QAGGIQ 2021 was only a taste of what we could do in the performing arts centre Qaggiavuut has been pursuing."
Read more about QAGGIQ 2021:
QAGGIQ 2021 was made possible thanks to the ongoing support of Qaggiavuut!'s partners and funders: