GJOA HAVEN KNOWLEDGE KEEPER WINS QAGGIAVUUT'S LIFETIME ACHIEVEMENT AWARD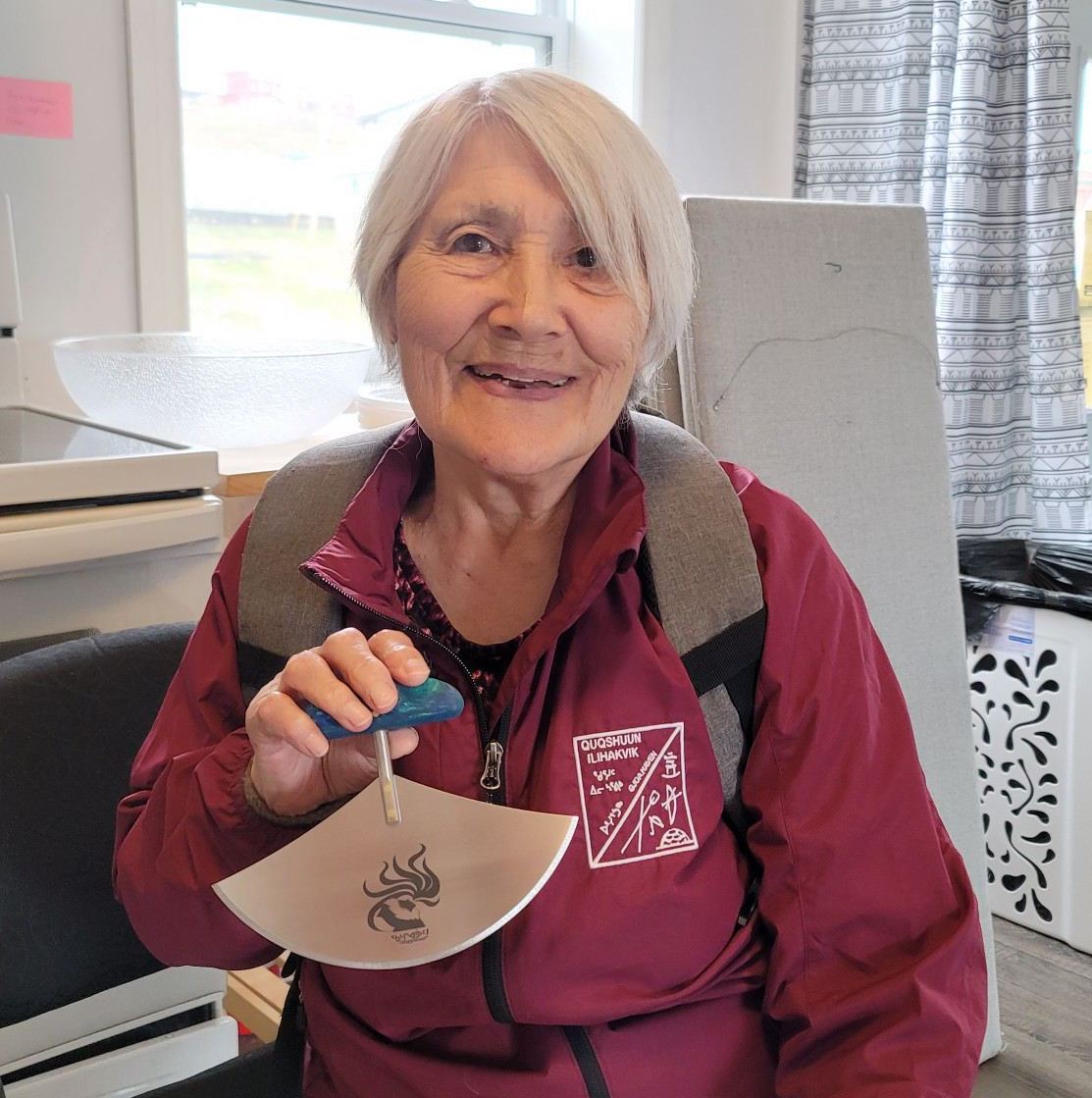 Miriam Aglukkaq pictured with her Lifetime Achievement Award (Qaggiavuut, 2022)
Wednesday, March 16, 2022– IQALUIT (Canada) – Miriam Aglukkaq, Gjoa Haven knowledge keeper, is the winner of this year's Award of Excellence in the Nunavut Performing Arts'. 
"The award is presented to Nunavut performing artists who have had a deep impact in the performing arts and who have inspired others to maintain the arts", said Looee Arreak, Qaggiavuut's Executive Director. 
Miriam Algukkaq lives in Gjoa Haven and was born in 1937 in the Uqsuutituuq area, remembering and sharing the traditional songs and stories of the Netsillik dialect. "She is always ready to share her knowledge in the humble way taught to her by elders. She is proud of being a storyteller and a singer and is a living library of Inuktut performing art", said Looee.  Among her accomplishments, Miriam was the principal storyteller/writer of Kiviuq Returns, an Inuktut play produced by Qaggiavuut and recently co-wrote the Inuktut version of the play The Breathing Hole with playwright Colleen Murphy and has taught pisiit (drum songs) for decades.
Qaggiavuut is a non-profit society dedicated to strengthening Nunavut's performing arts community. A major goal of the Qaggiavuut Society is to build the Qaggiq, a performing arts and cultural learning hub in Nunavut. 
Past winners of the Qaggiavuut Award for outstanding contribution to the Nunavut Performing Arts include last year's winners, Marjoriaq Quvianaqtuliaq  Novalinga Kingwatsiak from Cape Dorset for their work to maintain traditional Inuit children's songs, Julia Ogina from Cambridge Bay for her lifetime's work to teach the Ualiningmiut and Copper Inuit drum dance and Simeonie Keenainak from Pangnirtung for his career as a renowned button accordionist.
-30-
ᐅᖅᓱᖅᑑᕐᒥᐅᑕᖅ ᖃᐅᔨᒪᔨᑕᒻᒪᕆᒃ ᐃᓕᓴᕆᔭᐅᕗᖅ ᐃᓅᓯᓕᒫᒥᓂᒃ ᐃᑲᔪᖅᓯᒪᓂᕐᒥᓄᑦ
ᐱᖓᑦᑎᖅ, ᒫᔅᓯ, 16, 2022 (ᑲᓇᑕᒥ) ᒥᐅᕆᐊᒻ ᐊᒡᓗᒃᑲᖅ, ᐅᖅᓱᖅᑑᕐᒥᐅᑕᖅ, ᖃᐅᔨᒪᔨᑕᒻᒪᕆᒃ, ᐃᓕᓴᕆᔭᐅᕗᖅ ᐊᔪᖏᓐᓂᕐᒥᓄᑦ ᐃᓄᐃᑦ ᐱᐅᓯᑐᖃᖓᒍᑦ ᐅᓂᒃᑲᐅᓯᑐᖃᕐᓂᒃ, ᐱᓯᖅᓱᓂᕐᒥᒃ ᐊᒻᒪᓗ ᐅᓂᒃᑳᖅᑐᐊᓂᕐᒥᒃ.
ᑐᓂᓯᖃᑦᑕᕋᑦᑕ ᐃᓕᓴᖅᓯᔾᔪᑎᒥᒃ ᓄᓇᕘᒥ ᑕᐅᑐᕋᓐᓈᖅᑕᐅᓂᕐᒨᖓᔪᓂᒃ ᐃᑲᔪᖅᓯᒪᔪᓂᒃ ᐊᑦᑐᐃᓯᒪᔪᓂᒃ ᐃᑲᔪᖅᓱᐃᓂᕐᒥᒍᑦ ᐃᓕᖅᑯᓯᑦᑎᒍᑦ ᐅᖃᐅᓯᑦᑎᒍᓪᓗ ᐊᓯᒥᓂᒃ ᑲᔪᓯᑦᑎᐊᖁᓪᓗᒋᑦ ᑕᐅᑐᕋᓐᓈᖅᑕᐅᓲᑦ, ᐅᖃᖅᐳᖅ ᓘᐃ ᐋᕆᐊᒃ, ᖃᒡᒋᐊᕘᑦ ᑐᑭᒧᐊᑦᑎᑎᔨᖓ.
ᒥᐅᕆᐊᒻ ᐊᒡᓗᒃᑲᖅ ᐅᖅᓱᖅᑑᕐᒥᐅᑕᖅ ᐃᓅᓂᑯ 1937ᒥ ᐅᖅᓲᓕᑦᑑᕐᒥ, ᐃᖅᑲᐅᒪᔭᕐᒥᓂᒃ ᐱᓯᖅᓱᓂᕐᒥᒃ ᐅᓂᒃᑲᐅᓯᑐᖃᕐᓂᓪᓗ ᓇᑦᑎᓕᒻᒥᐅᑦ ᐅᖃᐅᓯᑐᖃᖓᒍᑦ. "ᖃᐅᔨᒪᔭᒥᓂᒃ ᐅᓂᒃᑳᕈᓐᓇᑦᑎᐊᓲᖅ ᑐᓂᓯᒪᑦᑎᐊᖅᑐᓂ ᐃᓕᖅᑯᓯᕐᒥᓂᓪᓗ ᓄᐃᓴᑎᑦᑎᑦᑎᐊᓲᖅ ᐃᓐᓇᕐᓂᒃ ᐃᓕᓯᒪᔭᒥᓂᒃ. ᐅᓂᒃᑳᑐᐊᖅᑎᐅᒋᐊᒥᒃ ᐅᐱᒋᔭᓕᒃ, ᐱᓯᖅᓱᖅᑎᐅᓂᕐᒥᓪᓗ ᐅᖃᓕᒫᒐᖅᑎᑐᑦ ᐃᓅᔪᖅ ᖃᐅᔨᒪᓂᖃᓗᐊᒧᑦ ᐃᓄᐃᑦ ᐱᐅᓯᖏᓐᓂᒃ ᓴᓇᑐᓂᕐᒥᒃ" ᓗᐃ ᐅᖃᖅᐳᖅ. ᐊᔪᖏᓐᓂᖏᓐᓂᒃ ᐃᓚᒋᔭᐅᔪᖅ ᐅᓇ, ᖃᒡᒋᐊᕘᑦ ᑎᑎᕋᖅᑎᓪᓗᒍ ᑭᕕᐅᖅ ᐅᑎᖅᐳᖅ ᑕᐅᑐᕋᓐᓈᖅᑕᐅᓂᐊᓂᖓᓂᒃ ᑎᑎᕋᖅᑎᓪᓚᕆᐅᖃᑕᐅᓚᐅᖅᑐᖅ ᐊᒻᒪᓗ ᑎᑎᕋᖃᑕᐅᓯᒪᓪᓗᓂ "ᐊᓪᓗᒥᒃ" ᑳᓖᓐ ᒨᐱᒥᒃ ᐊᐃᑉᐸᖃᖅᑐᓂ ᐱᓯᕐᓂᓪᓗ ᐃᓕᓐᓂᐊᑎᑦᑎᓯᒪᓪᓗᓂ ᐃᖏᐅᕐᓂᕐᒥᒃ.
ᖃᒡᒋᐊᕘᑦ ᑮᓇᐅᔭᓕᐅᖅᑎᐅᓇᓂ ᑎᒥᐅᔪᖅ ᓴᓐᖓᑎᑦᑎᕙᓪᓕᐊᓂᕐᒧᑦ ᓴᓇᑐᔪᓂᒃ ᑕᐅᑐᕋᓐᓈᖅᑕᐅᓂᕐᒧᑦ ᓄᓇᓕᓐᓂ. ᖃᒡᒋᕐᒥᒃ ᓄᐃᑎᑦᑎᒐᓱᑦᑐᑦ ᑎᒥᐅᔪᑦ ᐃᓕᓐᓂᐊᕐᕕᐅᒐᔭᖅᑐᒥᒃ ᓴᓇᑐᔪᓄᑦ ᑕᐅᑐᕋᓐᓈᖅᑕᐅᓂᕐᒥᒃ ᐃᓕᖅᑯᓯᑦᑎᒍᑦ ᓄᓇᕘᒥ.
-30-
ᑐᑭᓯᒋᐊᒃᑲᓐᓂᕈᒪᒍᕕᑦ ᐅᕗᖓ
For more information contact: contact@qaggiavuut.com
ᓘᐃ ᐋᕆᐊᒃ: ᑐᑭᒧᐊᑦᑎᑦᑎᔨ
Looee Arreak: Executive Director
867-979-6485
Alison Hinch: Communications Manager
ali@qaggiavuut.com