On the first day of spring this year, we created something truly unique: QAGGIQ 2021, an arts and cultural festival held in and around a 700-square foot qaggiq on March 20th and 21st, 2021, presented by Qaggiavuut! in partnership with Alianait Arts Festival and Tukisigiarvik Society.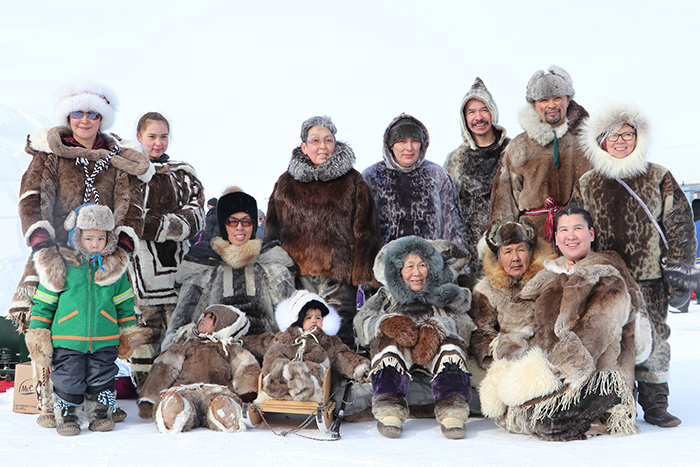 Photo: Attendees decked out in traditional clothing provided by Tukisigiarvik Society. Photo by Tristan Omik.
1) It took an expert team of builders nearly a week to build the qaggiq
About 30 metres wide in diametre, the qaggiq build itself was our first big feat. Thankfully, we had a terrific team of builders, led by master instructors Solomon Awa and Jacopoosee Tiglik and made up of Polar Outfitting staff, to do this. After several days of planning, the team went out on the land to cut and collect snow blocks over the course of two or three days, carting them back to a spot at Sylvia Grinnell Territorial Park where the final qaggiq was raised. Long days and late into the night, the build team worked at it, block-by-block, until the final piece was carved and packed into place, and we had our qaggiq.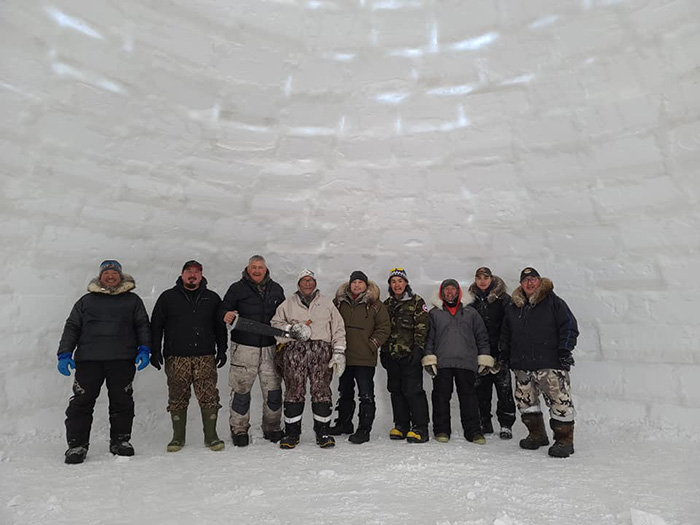 Photo: QAGGIQ 2021's builders. Photo by Alex Flaherty.
2) The festival brought in artists from across the territory.
From the Huqqullaaqatigiit drum dancing group of Cambridge Bay, to Pond Inlet's Tununiq Theatre, to singers Debbie Oyukuluk and Jeremy Tunraluk from Arctic Bay. In total, we had a dozen different acts made up of dozens and dozens of performers.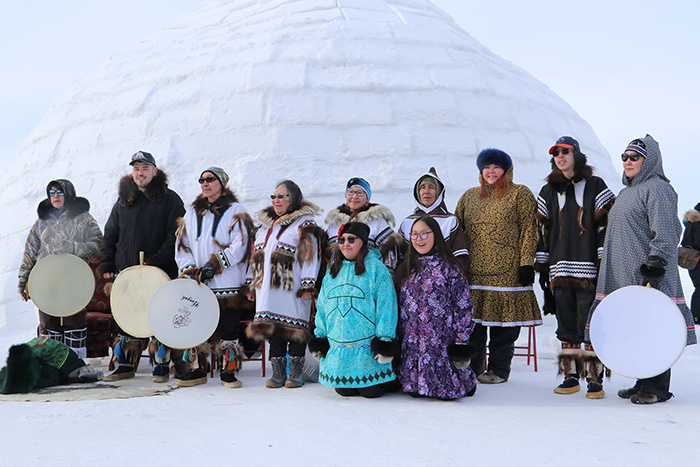 Caption: The Huqqullaaqatigiit drum dancers from Cambridge Bay. Photo by Tristan Omik.
3) We hosted potentially the first ever world premiere of a play outside in freezing conditions.
On Saturday, March 20th, QAGGIQ 2021 was home to the premiere of AKIA, a one-woman play about resilience by Sheena Akoomalik of Tununiq Theatre. The legend the play is based upon was told to the theatre troupe by elder and advisor, Annie Peterloosie.
4) Over 1500 people attended the event.
One hundred children at our Children's Hours, families in matching caribou clothing, young Inuit in sweatshirts and kamiik; QAGGIQ 2021 housed them all, inside and outside the qaggiq.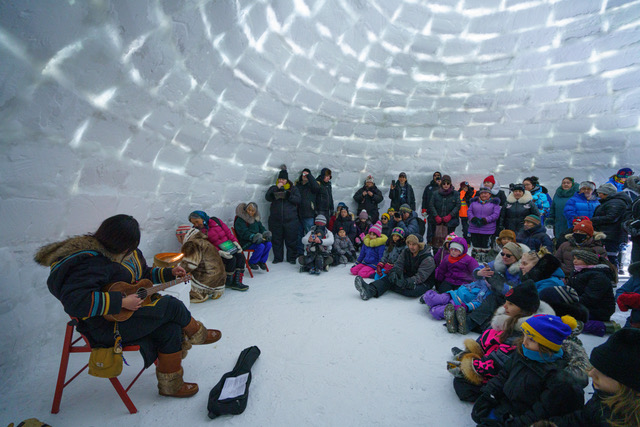 Caption: Brenda Anderson sings for the most adorable audience. Photo by Bill Williams.
5) Iqaluit has not seen a qaggiq in recent memory.
While qaggiq have been built recently in other parts of Inuit Nunangat, the capital city of Nunavut hasn't had one in generations. And across the board, very few artists have performed inside one, making this build, and the celebration around it, all the more special.
6) Nunavut has Canada's largest percentage of artists, and is the only province or territory without a dedicated stage.
Like a traditional qaggiq, the massive iglu built for QAGGIQ 2021 has since come down. A once-in-a-lifetime event that has created a lifetime of memories -- and further pushed Qaggiavuut! in our resolve to advocate for and create a permanent performing arts centre in our territory.
Read our feasibility study here.